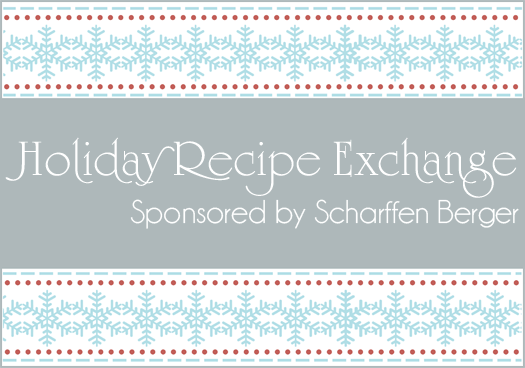 And now for the next entry in the Holiday Recipe Exchange with
GoodLife Eats
and
My Baking Addiction
... This week I decided to go the easy route and start with a recipe from a fairly reliable source... Martha Stewart! I know Martha gives some folks the frights, but I've found her recipes to usually be worth repeating... This one in particular I've tried in the past and found them absolutely addicting, so I decided I'd share my take on her recipe for
Mexican Hot-Chocolate Cookies
. This cookie is like a cross between a snickerdoodle (owing to the cream of tartar) and a cup of hot chocolate with a little bit of chile heat added in for fun. They come out of the oven slightly crispy but still chewy and wonderful! If you enjoy this recipe, then
come join the fun at the My Baking Addiction and GoodLife Eats Holiday Recipe Swap sponsored by Scharffen Berger.
Santa would LOVE a plate of these cookies!

Mexican Hot-Chocolate Cookies
Adaptations by me!
2 1/4 cups all-purpose flour
1/2 cup unsweetened cocoa powder (the darker the better)
2 teaspoons cream of tartar
1 teaspoon baking soda
1/2 teaspoon coarse salt
1 cup unsalted butter -- (2 sticks) room temperature
1 3/4 cups sugar, divided
2 large eggs, at room temperature
1/2 tsp vanilla extract (homemade if possible!)
2 teaspoons cinnamon
1/2 tsp freshly ground ancho chile
Preheat oven to 400 degrees. Line two cookie sheets with parchment paper and set aside.
Pepper prep: Take your ancho chile pod and break it open, removing all the seeds and the stem. Place the flesh of the chile in your food processor or, if you're like me and have a dedicated "spice grinder" (aka coffee bean grinder that's been re-purposed for spices), use that. Just be sure you don't use your regular coffee grinder for this or you're next cuppa joe may be on fire! Grind the pepper until it's in powder form. If, like me, your pepper is a little too soft (ie. not dry enough) grind enough for this recipe and then let the rest dry out for another use. Put 1/2 tsp of this freshly ground pepper in a small bowl for later use in this recipe.
Freshly ground ancho chile

In the bowl of your stand mixer, beat butter and 1 1/2 cups sugar on medium speed until light and fluffy, about 3 minutes.
Well creamed butter and sugar takes time...don't underbeat it!
Scrape down side of bowl. Add eggs, one at a time, and beat to combine. With mixer on low,
add the cream of tartar, salt and baking soda, allowing each ingredient to incorporate before adding the next. Add cocoa powder next followed by the flour in small increments (so you don't wear it!)
Dough's ready to go!
In the small bowl with your freshly ground ancho powder, add remaining 1/4 cup sugar and the cinnamon.
The rolling mixture
Using heaping tablespoons (I used a #40 cookie scoop which is about 1.5 tbsp), form balls of dough and roll in chile-cinnamon-sugar mixture. Place, about 3 inches apart, on baking sheets.
Ready to bake
Bake until cookies are set in center and begin to crack, about 10 minutes. Let cookies cool on sheets on wire racks 5 minutes, then transfer cookies to racks to cool completely.
Nicely crackled but still chewy



Enjoy this recipe and let me know if you give it a whirl! I love to get comments from readers who've tried them!