So I recently decided to join a monthly blog challenge for food bloggers called Kitchen Bootcamp.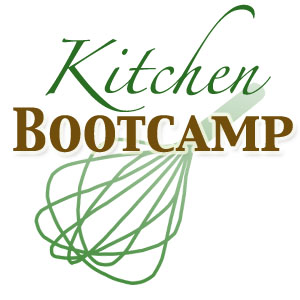 Each month the hostess chooses a topic for bloggers to try their hand at. She bases her challenges on
The Professional Chef
, but entrants are welcome to use their own recipes and resources as well. This month the challenge is Cooking Pasta and Dumplings. Well, I've made regular egg noodles as well as plain and flavored fettuccine in the past but have always wanted to try my hand at making gnocchi, so I decided that this would be the prime opportunity to do so!
For those unfamiliar with gnocchi, it's kind of like a pillowy pasta shape, sometimes made of ricotta but more commonly made with potato. One of my favorite dishes that a local restaurant used to make was Gnocchi with Fresh Mozzarella and Vodka sauce. It was divine! The restaurant no longer has it on the menu, so mastering gnocchi might allow me to recreate it in my own kitchen! Tuesday morning, armed with some leftover mashed potatoes and my copy of
The Professional Chef
I set out to make some "Gnocchi Piedmontese", a basic potato gnocchi. What a mess! The "dough" was a sticky, gluey, heavy mess...not at all the soft pillowy bites of dough I was looking for! I think because I started with already mashed potatoes, which had milk and butter in them, there was too much moisture and then because it was so "sticky" I tried adding a bit more flour and beating a little longer which resulted in a tough, gluey mess.
Undeterred, I decided I would try again on Thursday after a run to the grocery for more potatoes. I decided on Thursday because Tuesdays & Thursdays are the two days of the week that one of my two kiddos is in preschool, so I had half the distraction of other days. My mother brought me some potatoes Tuesday evening (after I told her about the mess in the morning) so I was all set. However, when sorting some things out in the pantry, I realized I had an extra butternut squash lying around. I decided to search my recipe database for ways to use it when I came across a recipe for
Butternut Squash Gnocchi with Sage Butter Sauce.
This recipe, from Lidia Bastianich's cookbook
La Cucina Di Lidia: Recipes and Memories from Italy's Adriatic Coast
, called for roasting the butternut squash they day before use and allowing them to drain in a colander over a bowl overnight in the refrigerator so that most of the liquid would be removed. The first problem I ran into was the length of time the recipe called for roasting the squash. My butternut squash took THREE TIMES as long to roast to "tender" as the recipe directed. Other than that small problem (which was easily overcome by continuing to cook it until done!), the recipe worked very well. Here is what the roasted squash looked like just before I put it in the refrigerator for the night.
The next morning I took the squash from the refrigerator and gathered the remaining ingredients for the pasta: 2 eggs, some salt and some flour.
Puree the squash in the food processor until smooth. I then added the salt and eggs directly to the food processor and combined them in there. I scooped the mixture into the bowl (from which I had drained the "liquid" from the squash) and then folded in the flour. The recipe says this dough will be soft and sticky, but I think that is an understatement! This dough was more like a thick muffin or cake batter (or perhaps a "loose" cookie dough) than like a typical pasta dough. This is a "dropped" gnocchi (rather than rolled as many others are) so the looseness and stickiness of the dough didn't worry me as much.
At this point, the recipe has you bring water to a boil to "poach" the gnocchi. I salted the water and when it came to a boil began the process. The directions tell you to scoop the dough using a teaspoon and rolling it into the water with your finger. Not wanting to get the sticky dough all over my fingers, I decided to go with my smallest cookie dough scoop instead. This worked extremely well although it did make larger gnocchi than I would have preferred. One thing to keep in mind is that the gnocchi will swell and puff in the hot water so they will end up LARGER than when raw. So make your dough balls SMALLER than you want the final product to be so you don't have this problem. I did have a little bit of "breakage" from the dropped dough, but other than not being as "pretty" as I might have liked, my method worked pretty well. The suggestion is for 10-15 gnocchi in the pot at a time. I did 10 and found that pretty crowded. Once the gnocchi float to the top of the water, you poach them for 2 minutes before removing and draining.
I removed my gnocchi to a lightly greased mini sheet pan to cool and then layered them into a seal-able refrigerator container lightly spraying each layer with oil to keep them from sticking together too badly.
After about 4 hours in the refrigerator (from the time I finished poaching until "dinner" time), I removed the chilled gnocchi and gathered the ingredients for the rest of the dish. Namely butter, fresh sage leaves and Parmesan cheese.
Now, the directions do not call for browning the butter, but I prefer browned to unbrowned butter, so I allowed the butter to just start to brown before adding the sliced sage and gnocchi. I sauteed this until the gnocchi got a light browning on it.
This photo shows a cross-section of the gnocchi (while cutting it up for my 1 year old). You can see some of the air pockets in the interior. These were light, fluffy and very very tasty! I will DEFINITELY be making this recipe again!
If you decide to give this recipe a try, please let me know how it works out for you! I will be trying "traditional" gnocchi this weekend (or maybe next week) and hope to also have some time to play with some standard pasta as well since I have not yet been able to try my "new-to-me" pasta maker for which I purchased some of King Arthur Flour's Perfect Pasta flour! My 3 year old has said she wants to help with that this weekend :) Should be an adventure! In the meantime, enjoy this recipe!

Butternut Squash Gnocchi with Brown Butter Sage sauce

Servings: 4
For the gnocchi:
1 butternut squash -- about 1 1/2 pounds
2 eggs -- beaten
3 1/4 teaspoons sea salt -- divided
1 1/2 cups all-purpose flour

For the sauce:
4 tablespoons butter
10 sage leaves -- cut into strips
1/2 cup grated Parmesan cheese

Preheat oven to 350øF. At least 6 hours before making the gnocchi dough (up to 1 day in advance), halve the squash lengthwise and scoop out the seeds and strings. Loosely wrap in aluminum foil. Bake for 1.5 hours or until flesh is tender when pierced with a fork. Allow to cool until able to handle and then scoop the pulp from the skin into a colander set over over a bowl. Cover, set in the refrigerator and allow the squash to drain at least 5 hours and up to 24 hours.

After it has drained, puree the squash in a food processor. Add the eggs and 1 1/4 teaspoons salt and pulse to combine. Pour into a large bowl and fold in the flour until well blended. The dough will be quite sticky and soft.

Bring a large pot of water to boil. Add 2 teaspoons salt to the boiling water. Using a teaspoon, scoop up some of the dough (about a walnut size piece) and slide it into the water with your finger. The gnocchi will drop to the bottom of the pot. Repeat until you have 10-15 gnocchi in the water (don't crowd). Poach them for 2 minutes after they rise to the surface. Remove with a slotted spoon and drain. Repeat until all the dough is used. At this point, you can store the gnocchi in an airtight container in the refrigerator for up to 3 days before continuing with the rest of the recipe.

To make the sauce, melt the butter in a large skillet. Allow to just begin to brown before adding the gnocchi and sage. Stir gently until the sauce coats the gnocchi and it starts to lightly brown. Sprinkle with the cheese and serve hot.
Source: adapted from
La Cucina Di Lidia: Recipes and Memories from Italy's Adriatic Coast
by
Lidia Matticchio Bastianich and Jay Jacobs