Dirty Snowballs
If you've been reading this blog, you know that I've been playing along with
GoodLife Eats
and
My Baking Addiction
's
Holiday Recipe Exchange
. This week there were two chances to play with two different themes. The first theme, Comfort Food, I blogged about my
macaroni and cheese recipe
. The second theme this week is a repeat of a previous theme...
BUTTER
!
Now, those of you who know me personally know we do not keep margarine in our home. We ONLY use butter, and yes, we keep BOTH kinds (salted and unsalted) on hand. The only time I really use salted butter though is for eating straight up, like for bread and butter, or for using on things like grilled cheese sandwiches, waffles, etc. The rest of the time I use unsalted. In my way of thinking, I can always add salt to a recipe, but I can't take it out :)
So for this round of the
BUTTER
theme, I decided to go with a dessert since that is my favorite thing to cook :) Last
BUTTER
round you may recall, I shared my recipe for
Buttery Potato Rolls
. This time I'm sharing a brand new recipe, fresh from my kitchen, which combines the best of two of my favorite kinds of holiday cookies...meltaways and Mexican Wedding Cookies (sometimes called Russian Tea Cakes). This recipe has the tender, flakiness of the meltaway with the nutty goodness of the wedding cookie. Add to that the yummy taste of a hot butter rum and you've got a winner! In thinking of a name for these cookies, I came up with
Dirty Snowballs
. They reminded me of when I was a kid and you'd get some sand in your snowball when the snow wasn't real deep... thus,
Dirty Snowballs
. They turned out better than I had hoped and I certainly hope some of you will give them a try.
Now, if you're a dough-eater like me, please don't be disappointed when you taste the dough... It is NOT a sweet dough and it DOES have a strong rum/alcohol taste when raw, but when the dough is baked off and rolled in powdered sugar, these cookies are light, flaky, melt-in-your-mouth, balls of goodness! So give them a shot! You won't be disappointed!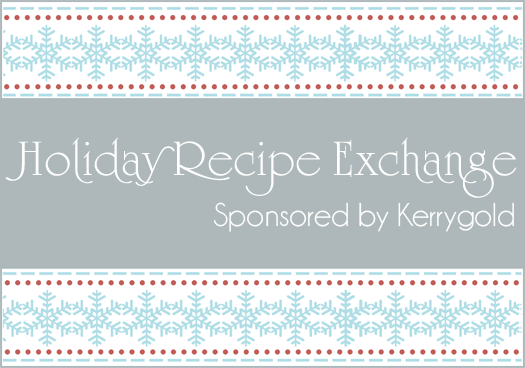 Come join the fun at the My Baking Addiction and GoodLife Eats Holiday Recipe Swap sponsored by Kerrygold.
Dirty Snowballs
Recipe By : Christi Brogan
1 1/2 cups all-purpose flour
2 tablespoons all-purpose flour
1/2 cup pecans -- or use pecan meal
2 tablespoons cornstarch
2 teaspoons ground cinnamon
2 teaspoons freshly grated nutmeg
1/4 teaspoon ground cloves
3/4 teaspoon coarse salt
3/4 cup unsalted butter -- (1 1/2 sticks)
1 cup confectioners' sugar -- divided
1/4 cup spiced rum -- like Captain Morgan
2 teaspoons pure vanilla extract
Using a food processor, chop the pecans until very fine, almost a pecan meal consistency.
Consistency of pecans after chopping

Combine flour, pecans, cornstarch and spices in a bowl. Place 1/3 cup of the confectioners sugar and the butter in the workbowl of an electric mixer. Beat on medium speed until light and fluffy, 2-3 minutes. Reduce speed to low, and gradually mix in flour mixture. Add the rum and vanilla and beat to throughly combine.
Chill dough in freezer for 30 minutes to re-harden the butter.
Dough ready for the freezer

Preheat oven to 350 degrees. Make balls of the dough approximately 1 tbsp in size and place each 1" apart on parchment-lined baking sheets. Bake until just golden, about 15 minutes.
Lightly golden in color
Transfer cookies to wire racks; let cool 10 minutes. Gently toss warm cookies with remaining 2/3 cup sugar in a resealable plastic bag. Cookies can be refrigerated in airtight containers up to 2 weeks.
A Dirty Snowball
Crumbly, sweet and flaky - YUM!
Yield:
"2 1/2 dozen"